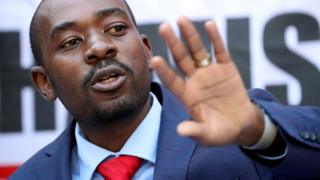 Zimbabwe's main opposition leader, Nelson Chamisa, has filed a legal challenge against President Emmerson Mnangagwa's recent election victory.
Mr Chamisa says he has evidence to show that he was cheated out of the 30 July presidential election.
His MDC Alliance party say the vote was marred by "mammoth theft and fraud", but the electoral commission has said there was "no skulduggery".
Mr Mnangagwa won 50.8% of the vote compared with Mr Chamisa's 44.3%.
The Constitutional Court will have 14 days to make a ruling on the legal challenge.
At least six people were killed two days after the vote in clashes between security forces and MDC Alliance supporters who alleged that Mr Chamisa had been robbed of victory.
There was great optimism that the elections would bring real change after the end of Robert Mugabe's 37-year rule in November.
But the MDC Alliance say the security forces have launched a brutal crackdown on the opposition following the disputed poll.
Mr Mnangagwa has appealed for peace and promised an independent investigation into the post-election violence.
Zimbabwe election: MDC's Chamisa mounts legal challenge against result