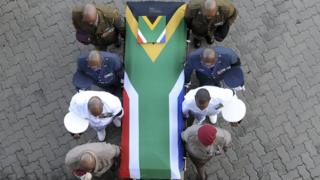 Crowds have gathered in South Africa for the funeral of the anti-apartheid campaigner, Winnie Madikizela-Mandela.
Thousands of mourners have crowded into a stadium in Soweto, near Johannesburg, where the campaigner is being given a high-level send-off.
Her casket was draped in the national flag, and her granddaughter Swati Dlamini Mandela read the eulogy.
Mrs Madikizela-Mandela, former wife of Nelson Mandela, died earlier this month at the age of 81.
A controversial figure, Mrs Madikizela-Mandela was lauded for her role in the anti-apartheid struggle.
But she was later shunned by the political elite for endorsing punishment killings for government informers.
Mrs Madikizela-Mandela was a social worker when she met her future husband, then a prominent anti-apartheid campaigner, in the 1950s.
They were married for a total of 38 years. For almost three decades of that time, they were separated by Mr Mandela's long imprisonment. They had two daughters together.
After Mr Mandela was imprisoned by the apartheid regime, Mrs Madikizela-Mandela became an international symbol of resistance to apartheid.
She too was jailed for her role in opposing white minority rule.
To her supporters, she became known affectionately as "Mother of the Nation".
But Mrs Madikizela-Mandela also found herself mired in scandal for decades.
She was accused of conducting a virtual reign of terror in parts of Soweto by other members of the ANC in the late 1980s, and in 2003 she was convicted of fraud.
She will be buried in Johannesburg.
Winnie Madikizela-Mandela
1936: Born in Transkei
1958: Married Nelson Mandela
1969: Jailed for 18 months for anti-apartheid activities
1976: Banished to rural area by apartheid authorities
1991: Convicted of kidnapping
1996: Divorced from Nelson Mandela
2003: Convicted of fraud
Winnie Mandela: Soweto send-off for anti-apartheid fighter