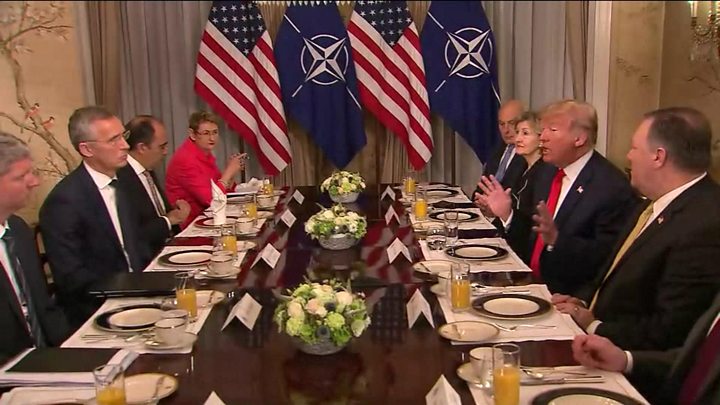 US President Donald Trump has suggested Germany's imports of Russian natural gas are a security concern, as he and other Nato leaders gather for a summit.
At talks in Brussels with Nato chief Jens Stoltenberg, he said it was a "very bad thing for Nato" that Germany was "totally controlled by Russia".
He suggested 70% of Germany's gas imports were Russian but the latest official figure was actually 50.75%.
German Chancellor Angela Merkel is to meet Mr Trump in the afternoon.
The US president also accused Germany of failing to pay enough for Nato operations.
The Brussels summit comes less than a week before Mr Trump is due to hold his first summit with Vladimir Putin, in Helsinki, reviving concerns among US allies over his proximity to the Russian president.
President Trump shocked some by quipping that the Nato summit might prove harder than next Monday's summit with Mr Putin.
European Council President Donald Tusk accused him of criticising Europe "almost daily", tweeting: "Dear America, appreciate your allies, after all you don't have that many."
Mr Tusk said the EU spent more than Russia on defence, and as much as China.
On the Putin summit, Mr Tusk said pointedly: "It is always worth knowing who is your strategic friend and who is your strategic problem."
What exactly did Trump say about Germany?
Germany has the EU's biggest economy and has long been accused by US administrations of failing to contribute its fair share to Nato operations but Mr Trump was particularly stinging.
"Ultimately Germany will have almost 70% of their country controlled by Russia with natural gas, so you tell me – is that appropriate?" he asked at Wednesday's breakfast meeting with Mr Stoltenberg.
"Germany is totally controlled by Russia because they will be getting from 60 to 70% of their energy from Russia, and a new pipeline, and you tell me if that's appropriate because I think it's not and I think it's a very bad thing for Nato."
Germany has given political support for a new Baltic Sea pipeline, Nord Stream 2, which will increase the flow of Russian gas to EU states. The project has been sharply criticised by Poland and others.
Mr Trump went on to accuse Germany of only spending "a little bit over 1%" of its economic output on defence compared to the 4.2% spent by the US "in actual numbers".
Germany actually spends 1.24% and the US 3.5%, according to the latest Nato estimate.
How have Germany and Nato responded?
Mrs Merkel, who is to have a one-to-one meeting with Mr Trump, was quoted by Reuters news agency as saying she expected "controversial discussions" at the summit.
Germany, she added, was an independent country that did "a lot" for Nato.
Her Defence Minister, Ursula von der Leyen, rejected Mr Trump's accusations of Russian control, adding that her country had a "lot of issues with Russia without any doubt".
Mr Stoltenberg sought to play down Mr Trump's accusations, saying he expected Nato leaders would agree they were "stronger together than apart".
Fears over dependency on Russian energy
By Jonathan Marcus, BBC defence and diplomatic correspondent
In describing Germany as being "totally controlled by Russia" and linking this to what the US sees as Berlin's unsatisfactory defence budget, President Trump is underscoring two long-standing US concerns.
US leaders have long warned of what they see as Europe's uncomfortable dependence upon Russian energy supplies. And they have also been arguing for over a decade that the Europeans should spend more on defence. Mr Trump has given these twin themes a new and more abrasive tone.
While he may well be over-stating Germany's dependence upon Russian energy, even many European leaders are well aware of the potential influence that this could give Moscow. It's an area where short-term economic and longer-term security considerations are at variance.
No wonder then that when the US sanctions Russia for its behaviour in Ukraine and its annexation of Crimea it included steps to hamper anyone who helped build or support new Russian pipelines westwards.
What is the spending row about?
President Trump has said the US is being "taken advantage of" by other members of the Nato alliance, which was set up in 1949 to counter the Soviet Union, of which Russia is the main successor state.
His main objection is that all but a handful of member states have still not increased their defence budgets to meet a goal of spending at least 2% of their annual economic output on defence by 2024.
Of Nato's 29 members, just five meet that target this year: the US, Greece, Estonia, the UK and Latvia. However, several, such as Poland and France are close to the mark.
Some in Nato fear Mr Trump's repeated blunt demands could harm morale, furthering the agenda of President Putin whom they accuse of seeking to destabilise the West.
After the Nato summit on Wednesday, President Trump will spend four days in the UK before his summit with the Russian leader.
Trump Nato: Germany's defence spending attacked