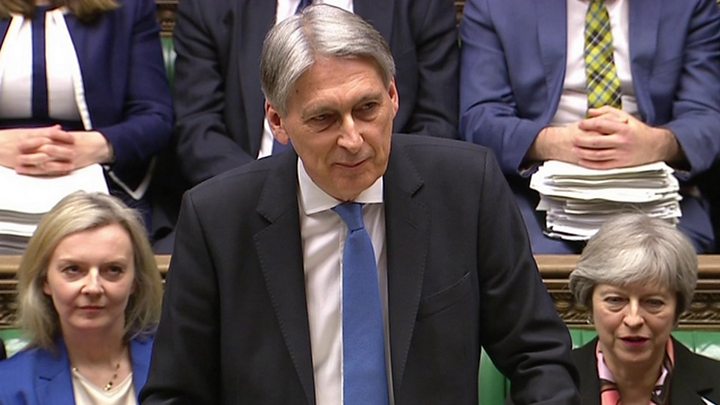 Chancellor Philip Hammond has unveiled upgraded projections for growth and predicted falling inflation and borrowing in his Spring Statement.
He claimed the UK economy had reached a turning point and there was "light at the end of the tunnel".
He ruled out an immediate end to austerity but hinted at possible spending rises in the future.
Labour accused him of "astounding complacency" in the face of the worst ever public sector funding crisis.
The chancellor resisted calls from Labour and some Tories to use the extra cash from an unexpected boost in tax receipts to ease the spending squeeze.
But he said he would "set an overall path for public spending for 2020 and beyond" in his Autumn budget, with a detailed spending review in 2019.
The raw figures
The chancellor told the House of Commons growth was forecast to be 1.5% this year, up from 1.4% forecast by the Office for Budget Responsibility in November, with the forecast for 2019 and 2020 unchanged at 1.3%.
In his 26 minute statement he also said debt would be falling as a share of GDP from 2018-19, which would be the start of "the first sustained fall in debt for 17 years, a turning point in the nation's recovery from the financial crisis of a decade ago".
Mr Hammond told MPs: "That's the OBR's forecast, Mr Speaker, but forecasts are there to be beaten."
OBR chief Robert Chote said: "Overall the referendum vote does seem to have weakened the economy as we and most other forecasters expected, but not quite as much as we forecast back in November 2016.
"Having said all this, we are still dealing with the very early drafts of economic history and it's important not to put too much weight on what are still early indicators of economic activity either side of the Brexit vote."
He said the UK was borrowing less than forecast this year thanks to more tax coming in from self-employed workers – revenues are £2.9bn higher than predicted.
But he added: "We don't expect much of that good news to push forward into future years."
Ahead of Mr Hammond's statement, the OECD said the UK economy will grow at a slower pace than any other major advanced or emerging nation this year, as it raised its growth forecast to 1.3% in 2018.
What about Brexit?
The OBR has calculated that the UK will continue to pay contributions into the EU budget until 2064 – 45 years after the official date of Brexit – with the total "withdrawal bill" amounting to £37.1bn.
Mr Hammond did not have much to say about Brexit in his statement – prompting opposition claims that he knew there would be no "Brexit dividend" for the UK economy.
Mr Hammond said: "Our economy does still face uncertainty as we go through the negotiation process with the European Union."
But he added that business confidence would improve as the government delivered "greater clarity" about its Brexit plans, adding: "We beat the forecast in 2017, let's beat it again in 2018."
What we can expect in the Autumn Budget
Mr Hammond did not use his Spring Statement as a "mini-Budget" as in previous years, and instead unveiled a series of consultations on future policies:
A reduction in tax on for the least polluting vans to "help the great British white van driver go green"
A possible tax on single use plastic
A new 'tech tax' looking at how firms like Google and Facebook are taxed
How online platforms can help their users to pay the right amount of tax
A call for evidence "on whether the use of non-agricultural red diesel tax relief contributes to poor air quality in urban areas"
Inviting cities across England to bid for a share of £840m to deliver on "local transport priorities".
A plan to make the least productive businesses learn from the most productive
Measures to end late payments for firms
The future of cash and digital payments
He did announce some measures, however. The next revaluation for business rates has been brought forward to 2021, after which the government will move to revaluations every three years and there will be an additional £1.7bn to deliver 26,000 affordable homes in London.
The speeches in full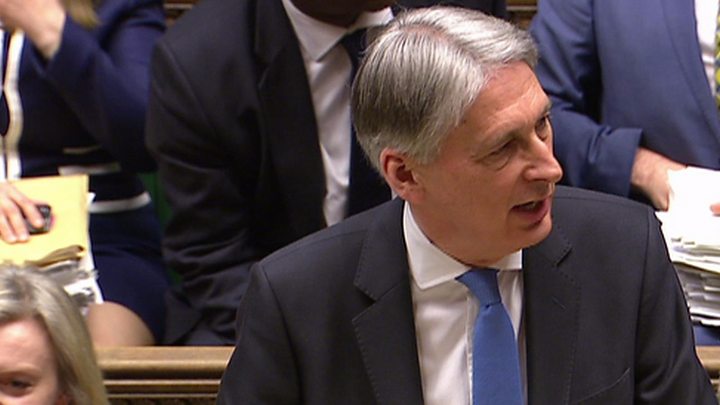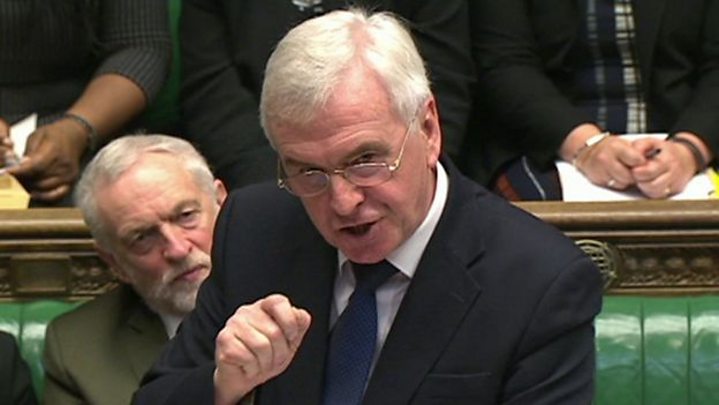 What the opposition made of it
Labour's shadow chancellor John McDonnell said: "Does the chancellor really believe the NHS can wait another eight months for the lifesaving funds it needs? How many people have to die waiting in an ambulance before he acts?"
Mr McDonnell also raised concerns over funding for schools, the emergency services and local councils.
He said "austerity was a political choice not an economic necessity", adding: "We were never all in this together as they claimed."
The SNP's leader at Westminster, Ian Blackford, said the "real tragedy" was that austerity was still with us "10 years on from the financial crisis" and the OBR had said real wage growth would "remain subdued for the next five years".
"The light at the end of the tunnel is a hard Brexit, which is going to cost jobs and prosperity in the this country," he added.
Lib Dem leader Sir Vince Cable said "Brexit was dragging the economy down" and the chancellor had been right not to turn on the public spending taps because there was still "very little freedom" in the public finances.
Green Party co-leader Caroline Lucas tweeted: "Tories celebrate a tiny improvement in growth in today's #SpringStatement, but GDP isn't a real measure of our society. True indicators are people being treated in hospital corridors & foodbank use shooting up. Our economy is designed to fail people – and it needs an overhaul."
Analysis
By BBC Economic Editor Kamal Ahmed
There is good news today. Employment is high, and the OBR said that inflation would fall back to the Bank of England target of 2% by the end of the year.
The chancellor said that meant incomes would start rising in real terms by the first three months of next year.
That will be an important moment, as the squeeze on incomes is the way millions of people experience the real economy.
Mr Hammond opened the door to possible increases in spending on public services such as health and defence in the Budget later in the year.
But it was only a crack, given that growth is still struggling. A situation that does not look like changing any time soon.
And finally…
Mr Hammond accused Labour of talking the economy down, comparing them to the gloomy character from Winnie the Pooh he has himself been likened to in the past.
"If there are any Eeyores in the chamber they are over there. I meanwhile am at my most positively Tiggerlike today, as I contemplate a country which faces the future with unique strengths."
Labour's shadow communities secretary Andrew Gwynne joked on Twitter that Mr Hammond was "talking Pooh".
Spring Statement: Philip Hammond hails better debt and growth forecasts}