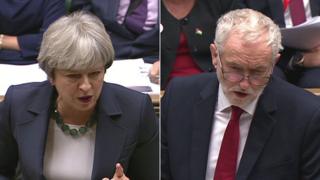 Theresa May and Jeremy Corbyn have gone head-to-head in their weekly House of Commons Prime Minister's Questions clash. What happened?
The Labour leader could hardly ignore the issue of Brexit after the week we have just had, with Theresa May having to return from Brussels empty-handed after the DUP blocked a deal on the Northern Ireland border… but he has gone off on unexpected tangents at PMQs before.
Tory MP Henry Bellingham gave Mrs May a helping hand before Mr Corbyn could get started, however, asking her for an update on Brexit negotiations. The PM repeated some of her favourite Brexit catchphrases, such as "nothing is agreed until everything is agreed" (that will make an appearance again later).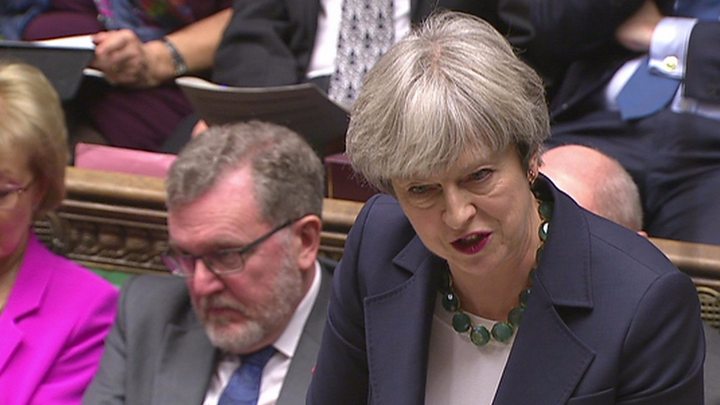 Mr Corbyn began his six questions with an attack on the government's competency after the breakdown of Brexit talks, accusing her of leading a "coalition of chaos" (repurposing Mrs May's jibe against Labour in June's general election). Mrs May dealt easily with this by attacking Labour's own apparent confusion over where it stands on Brexit.
Mr Corbyn continued to press the prime minister on Monday's "shambles" in Brussels, asking her to clearly outline where she stood on the Northern Ireland border issue. She said there would be no "hard border" but the final decisions won't be made until phase two of the Brexit talks (for newcomers to this issue, the EU says phase two of the talks can't start until the border issue is decided).
Mr Corbyn accused Mrs May of being held to ransom by the DUP, the Northern Ireland party whose 10 MPs are needed for her to win key votes. "The tail really is wagging the dog here," he told MPs.
Mr Corbyn then switched to the running sore of the government's Brexit impact studies. Brexit Secretary David Davis has been accused of blocking the publication of these. Mr Davis has again played down their significance, suggesting they don't really exist in the form Labour thinks. Do they exist or don't they, asked Mr Corbyn.
There were no 58 impact assessments, there were 800 pages of sectoral analysis, said Mrs May, in a tone suggesting they were far too boring for MPs to worry about.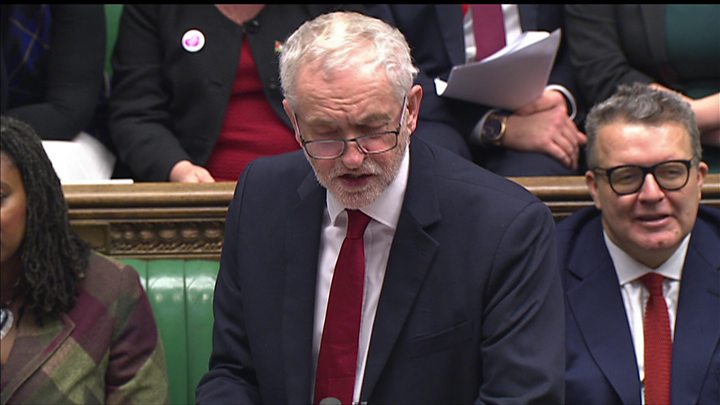 Mr Corbyn called for a fully itemised account of the Brexit divorce bill. Not a chance, said Mrs May, because "nothing is agreed until everything is agreed" in Brussels. "The only hard border", she said in today's scripted joke, "is right down the middle of the Labour Party".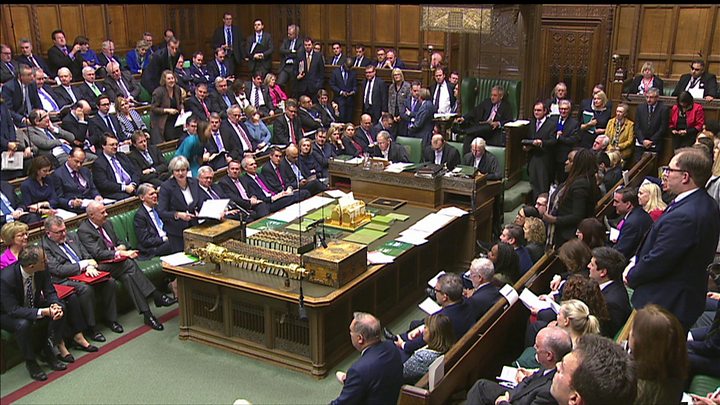 Mr Corbyn broadened out his attack from Brexit, to the NHS, child poverty, "our rip-off railways", universal credit and much else besides. "If they can't negotiate a good deal wouldn't it be better if they just got out of the way," he said.
Mrs May hit back, somewhat randomly, with an attack on Mr Corbyn's student debt "promises", fully aware that she always gets the final word in these exchanges.
What else came up?
The SNP's Iain Blackford focused on a call to keep the whole of the UK in the single market and customs union following the events of this week (something Jeremy Corbyn did not get into, despite many of his MPs sharing this view).
The PM faced a series of pointed questions from Conservative Brexiteers Peter Bone, Jacob Rees-Mogg and Bernard Jenkin, who fear she is caving in too easily to Brussels. Peter Bone asked if the UK was still on course to deliver what the British people had voted for last year – and offered to accompany her to the next set of talks with EU leaders. The PM politely declined his offer…
Labour's John Grogan asked about plans to upgrade the TransPennine rail link.
Labour MP Ruth George raised the issue of nursery owners struggling with the new policy of 30 hours a week of free childcare for three and four year olds – she said 1,000 nurseries had closed already.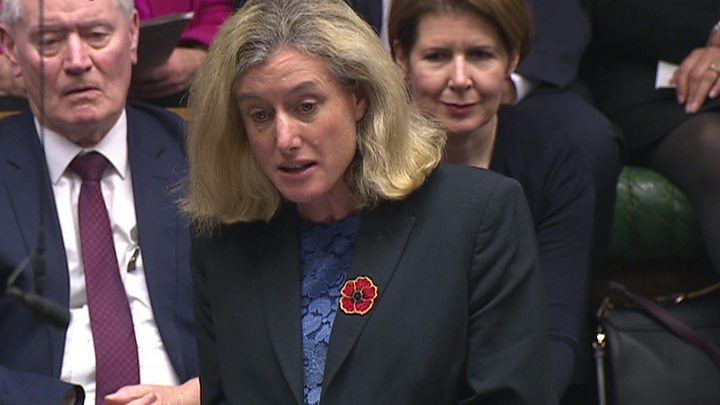 And finally…
Just after PMQs Speaker John Bercow mistakenly called Labour's Ben Bradshaw the MP for Brexeter. The Exeter MP, a staunch Remainer, is anything but a Brexiteer – as an embarrassed Bercow was happy to concede.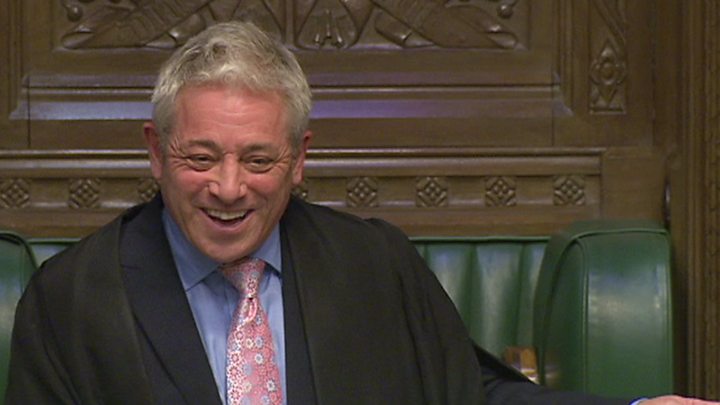 The Verdict
What commentators are saying on Twitter
Prime Minister's Questions: The key bits and the verdict}