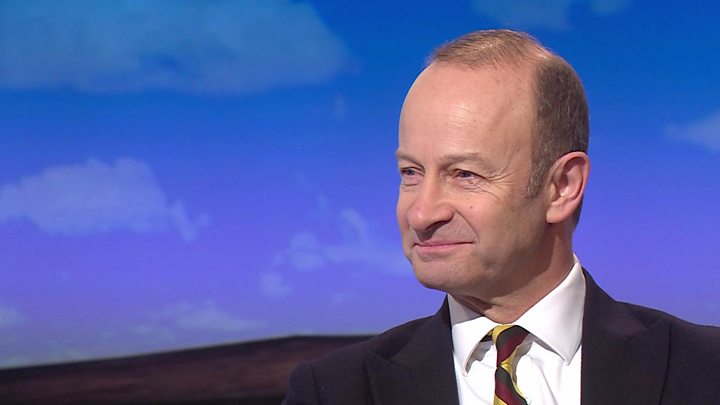 UKIP leader Henry Bolton has suggested his predecessor Nigel Farage misspoke when he said he was close to backing a second EU referendum.
"If he actually believes that, I would say he was wrong," Mr Bolton told the BBC's Daily Politics.
But he said Mr Farage had been making a "call to arms" to "mobilise the entire Leave campaign".
Mr Farage said a second referendum would stop the "whinging and whining" of anti-Brexit campaigners.
He told Channel 5's The Wright Stuff on Thursday a fresh vote could "kill off" the Remain campaign for a generation.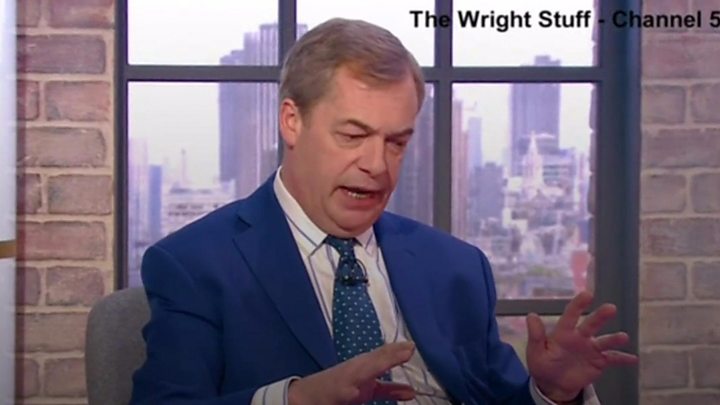 But he later backtracked, saying in an article for the Daily Telegraph and on LBC radio that a second referendum was the "last thing" he wanted but Leave voters had to be prepared and he was confident they would win again.
"To be clear, I do not want a second referendum, but I fear one may be forced upon the country by Parliament. That is how deep my distrust is for career politicians.
"This poses a big question for Leavers. Do we stick with the view that the result will stand or acknowledge the fact that we face this potential threat?"
Mr Farage's initial comments were seized on by Remain supporters, who claimed it demonstrated growing support for a second referendum but some UKIP members were not impressed.
Mr Bolton said UKIP's policy was to oppose a second referendum but Mr Farage had been making the point that the Leave camp needs to "unite" and "mobilise" to ensure Theresa May's government delivers Brexit.
Asked if his predecessor had misspoken when he made his comments on Channel 5, Mr Bolton said: "To an extent, yes."
"He was illustrating the point that if we did have one, if the government forces one on us, then it would give us the opportunity to decisively to put the whole thing to bed," he said.
He said if there was a second referendum "we would win it hands down".
Downing Street said: "We will not be having a second referendum."
Mr Farage was one of the leading figures in the Leave campaign, which won the referendum with 51.9% of votes.
The result in June 2016 means that the UK is leaving the European Union, with the date for departure set as 29 March 2019. Negotiations are currently taking place between the UK and the EU about a post-Brexit relationship.
Nigel Farage misspoke on second referendum, suggests UKIP leader}