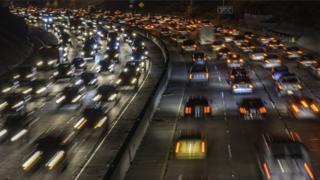 California police say that two men who were killed in a violent road rage incident have been identified.
Jose Rodriguez-Carrasco, 37, allegedly chased and hit Jason Dykes, 39, with a pipe or bat before he was fatally hit by another car on Sunday, police say.
Witnesses told police Rodriguez-Carrasco hit other vehicles with the same weapon before he was struck and killed.
Dykes later died of apparent blunt force trauma from the Sunday brawl.
The Sacramento County Coroner's Office identified the two men on Monday.
Early on Sunday morning, Rodriguez-Carrasco and Dykes were involved in a vehicle collision on a freeway near Sacramento, California, the Sacramento Bee newspaper reported.
The men drove a bit further down the road before stopping and exiting their vehicles, California Highway Patrol public information officer Mike Zerfas told the newspaper.
A confrontation between the two men then broke out in the middle of the highway.
"It escalated from a traffic collision to a fight to a homicide," Mr Zerfas said.
Rodriguez-Carrasco allegedly used a pipe or bat to hit Dykes, witnesses told Sacramento police.
Local media reported that bystanders attempted to resuscitate Dykes, but the blow eventually killed him.
As Rodriguez-Carrasco began walking away – reportedly continuing to hit vehicles with his weapon – he was hit by a passing motorist and killed.
Authorities pronounced both men dead when they arrived on scene.
The investigation into the incident left the highway shutdown for hours.
Men killed in California highway brawl identified