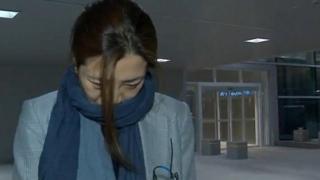 Korean Air has suspended its CEO's younger daughter while police investigate reports she threw water at an advertising executive in a meeting.
Cho Hyun-min, 36, a senior vice-president at the company, has apologised and called her behaviour "foolish and reckless".
She denies throwing water but admits to shoving the advertising agency manager.
She is the younger sister of Cho Hyun-ah – the airline heiress who infamously delayed a flight over a packet of nuts.
According to local media reports, Ms Cho, who is also known as Emily, lost her temper because she was unhappy with answers to her questions during the meeting in Seoul last month.
The national carrier said in a statement it would take appropriate action after the police investigation was over.
Ms Cho issued an apology on her Facebook page on Thursday: "I have no words to say for my action that I should not have done under any circumstances."
The airline said on Monday she had thrown a cup of water on the floor, but not at anyone's face, Reuters news agency reports.
The owners of Korean Air have been under intense scrutiny since Ms Cho's sister, who is also known as Heather, famously flew into a rage when macadamia nuts were served to her in a bag and not on a plate on a Seoul-bound flight from New York in December 2014.
The case attracted intense attention in South Korea, reopening a national debate about the Korean business system, which is dominated by family firms known as chaebols.
The incident was eventually brought to trial, and Cho Hyun-ah was convicted of violating aviation safety, coercion and abuse of power in 2015.
An appeals court later reduced the one-year sentence to a suspended term, and she was released after five months in jail. She recently returned to a management role at the firm's hotel wing.
Korean Air CEO's daughter suspended 'for throwing water'}