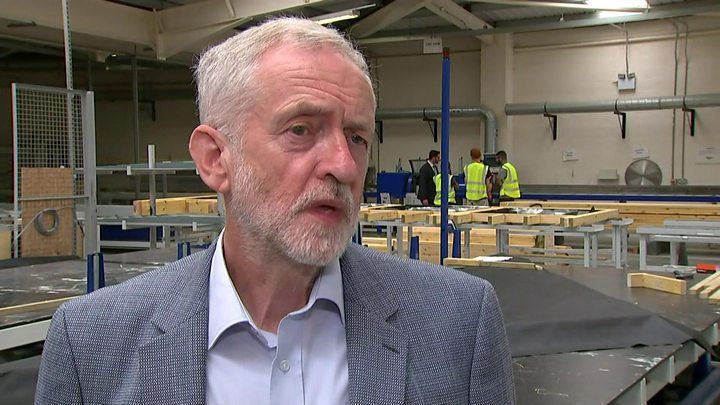 Israel's PM has criticised Jeremy Corbyn over his presence at a ceremony said to have honoured the perpetrators of the 1972 Munich terror attack.
Benjamin Netanyahu said Mr Corbyn deserved "unequivocal condemnation" for laying a wreath on the grave of one of those behind the atrocity.
Mr Corbyn said Mr Netanyahu's claims about his "actions… are false".
The Labour leader said he had attended the event in Tunis in 2014 as part of a wider event about the search for peace.
Mr Netanyahu made the comments after the Daily Mail said Mr Corbyn was pictured with a wreath near memorials of the group behind the attack.
He also accused Mr Corbyn of comparing Israel to the Nazis – but a Labour statement reiterated a previous denial of that claim.
In response to the newspaper story, the Labour leader said that while at a conference, he had attended a memorial for victims of the bombing of Palestine Liberation Organisation headquarters by Israel in 1985.
'Cycle of violence'
He was also asked about a second wreath-laying, reportedly remembering people killed by Israeli intelligence agency Mossad.
The questions were in response to a Daily Mail front page featuring photographs it said showed the Labour leader near memorials to members of the militant Black September group behind the 1972 attack.
Eleven members of the Israeli Olympic team were taken hostage by the Palestinian group at the 1972 summer games in Munich.
The hostages and a West German police officer were killed by the group, with five of the eight hostage-takers killed by German police during a failed rescue attempt.
Asked who this wreath had been for, if they were not terrorists, Mr Corbyn replied simply that a wreath "was indeed laid".
But he added: "I was present when it was laid. I don't think I was actually involved in it.
"I was there because I wanted to see a fitting memorial to everyone who has died in every terrorist incident everywhere because we have to end it.
"You cannot pursue peace by a cycle of violence. The only way you pursue peace is a cycle of dialogue."
The Daily Mail has also published a video of Mr Corbyn from an event in 2013.
In the video, Mr Corbyn said Palestinians had experienced "conditions in the West Bank, under occupation, of the very sort that will be recognisable by many people in Europe who suffered occupation during the Second World War".
A Labour statement said Mr Corbyn had not compared Israel to the Nazis "but the conditions of civilian populations in besieged cities in wartime".
Referring to the accusation of wreath-laying, Jewish Labour MP Luciana Berger said: "Being 'present' is the same as being involved.
"When I attend a memorial, my presence alone, whether I lay a wreath or not, demonstrates my association and support.
"There can also never be a 'fitting memorial' for terrorists. Where is the apology?"
'Put to bed'
Home Secretary Sajid Javid had earlier suggested that Mr Corbyn should resign over the issue.
On Sunday Labour's press team said: "The Munich widows are being misled. Jeremy did not honour those responsible for the Munich killings."
In a tweet, Labour said he and other Parliamentarians had been honouring victims of the 1985 Israeli bombings.
It comes amid a wider row about anti-Semitism in the Labour party.
Critics, including Jewish leaders and some Labour MPs, say a new code of conduct adopted by the party is not as comprehensive about anti-Semitism as the International Holocaust Remembrance Alliance's (IHRA) guidelines.
Labour says it has included the international definition word-for-word in the code, although critics say the Labour code leaves out examples of how criticism of Israel can be anti-Semitic.
Labour MP Margaret Hodge said the only way Mr Corbyn can "put this issue to bed" was to adopt the internationally agreed definition in full.
Jeremy Corbyn 'wreath laying' attacked by Israeli PM}