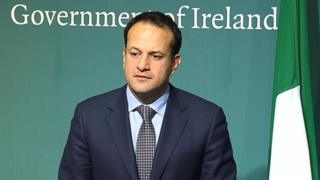 The Irish prime minister has said the UK government plans to suggest a new wording for a Brexit deal on the Irish border within the next 24 hours.
Leo Varadkar told a news conference he had spoken by phone to British PM Theresa May on Wednesday.
"She wants to come back to us with some text tonight and tomorrow," he said.
On Monday, the UK and EU failed to strike a deal in Brexit talks when the DUP objected to the wording of a text on the future operation of the border.
Mr Varadkar said that during Wednesday's phone call, he indicated his "willingness to consider any proposals that the UK side have".
"Ultimately, it is up to them to come back to us, given the events that happened on Monday."
'Absolute red line'
He added: "I want to move things forward as well.
"I want us to move to phase two, if that is possible, next week but the absolute red line that has been there for some time remains. and it's been there since the day of the referendum and even before.
"My responsibility as taoiseach – as prime minister of Ireland – is to protect our fundamental national interest and that is the rights of Irish citizens in Ireland and Britain and also the avoidance of a return to a border between Northern Ireland and Ireland."
The Irish government has demanded a written agreement from the UK that there will be no return to a "hard border"- one involving checkpoints or barriers – after Brexit.
The EU has agreed that Brexit talks cannot proceed to phase two – dealing with trade – until the Republic of Ireland is satisfied with a UK guarantee on the border issue.
The Democratic Unionist Party (DUP) has said it will not accept any agreement in which Northern Ireland is treated differently from the rest of the UK.
Mrs May's Conservative Party currently relies on DUP support to stay in power at Westminster.
Conservative MP Kenneth Clark said the government had made a "pig's ear" of the border negotiations.
"They agreed this regulatory compliance on both sides, which is what a free trade deal requires, but unfortunately they didn't make it clear that's the whole of the United Kingdom," he said.
"I quite understand that in Ulster people don't want a different arrangement from the whole of the United Kingdom and to have new protectionist barriers on the Irish Sea."
He added: "They should have kept the DUP completely in the loop and discussed it with them and explained it with them as it went along.
"It's no good just reaching agreement with the taoiseach and then present it to the DUP who appear to have got the idea that somehow this was a special arrangement for Ulster."
Brexit: Irish PM expects new UK text on border in 24 hours}