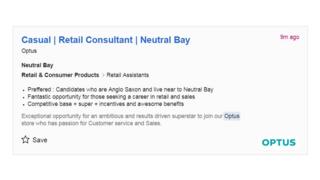 An Australian telecommunications company has apologised for posting a job advert that stated a preference for "Anglo-Saxon" candidates.
Optus, the nation's second-biggest provider, had included the description in a posting about a vacant position in a Sydney store.
The advert was shared on social media, where it was criticised as racist.
Optus responded by removing the posting and saying it would investigate the "completely unacceptable" error.
"[We] will be investigating how this occurred with a view to taking disciplinary action against those involved," spokesman Vaughan Paul said in a statement.
Mr Paul said it violated the company's values, and was a breach of advertising standards.
Social media users were angered by the advert.
Australia's Race Discrimination Commissioner, Tim Soutphommasane, also responded to the incident.
"Under the Racial Discrimination Act, it is unlawful to discriminate on the grounds of race in employment," he tweeted.
Australian company Optus apologises for 'Anglo-Saxon' job ad